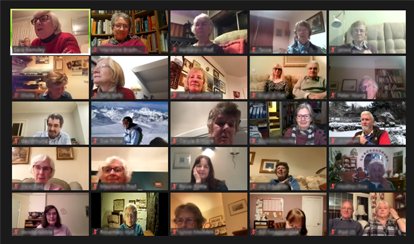 SINGING IN LOCKDOWN
As we look back on ten months of virtual rehearsals and no concerts, we can only hope that 2021 will keep us all safe, and bring us together again before too long. For now our weekly choir Zoom get togethers continue with a focus on enjoying professional performances of the pieces and learning more about what makes them distinctive.
Each fortnight we look at a different musical period, and in between times it's good to get together socially.
Wouldn't it be wonderful if we could share it with an audience in the spring? Watch this space...
And in the meantime, if you've missed hearing us sing, here is a performance of one of our favourite pieces by singer/songwriter and one-time member Peter Skellern. It is called A Prayer.